ABTF trustee Mary Burton's story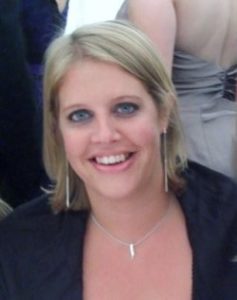 My sister Ros Barrett and her husband David's two daughters, Katie and Gemma, have always been special to me as I didn't have children of my own.
One teatime in late 2005, my phone rang and it was Ros.  She said that Gemma had been taken ill at work (she was at that time aged 25 and teaching geography at Hartismere School in Eye, Suffolk).  At that stage it was unclear exactly what was wrong – it was suspected that she may have had a stroke.  She was taken to Norfolk & Norwich University Hospital, had an MRI scan later that evening and it was then that it was discovered that she had a brain tumour.   When I visited her the next day, she was most indignant that she'd been told that couldn't drive for at least a year!  Gemma eventually found out, after a biopsy, that she had a grade 2 oligo-astrocytoma in the right temporal lobe of her brain.
Life was good for Gemma prior to her diagnosis.  She loved her job and was very popular with her students who appreciated her down to earth attitude and sense of humour.  She had just bought her own house in Stowmarket.
Gemma faced her illness with outstanding courage and strength. She researched her illness as soon as she was diagnosed and knew exactly what lie ahead. She got on with her life, carrying on with her job when possible, and refused to let her illness stand in her way.  With friends and family she raised money for brain tumour research.  Twice she joined the Astro Brain Tumour Norfolk Family Walk in the autumn sunshine at Holkham, managing to do the ten miles both times.  She was on a school trip to France at the time of the first walk but sent a text to her mum – "keep walking, think of the money et mon mal a la tete – and my poor head!"
She underwent neuro-surgery twice, radiotherapy when she lost all her hair, and chemotherapy which finally had to be abandoned. Three years after being diagnosed the tumour became unstable and she lost three quarters of her sight when it affected her optic nerve.   Although laid low with fatigue by her illness, she battled on with her usual humour.  I used to make weekly trips down to visit her – she had by this time moved back with her mum and dad – and she was always pleased to see me.
Gemma endured ten months suffering awful side effects from the chemotherapy until further treatment became pointless and was advised she had only a few weeks left.  She asked for all of her friends to visit to say good bye.  One asked if she was frightened and she replied that she would now be glad to have an end to it.  No young person with so much life ahead should have to face this.
Gemma moved to All Hallows Hospital and on 17th November 2010, she died peacefully in Ros's arms, at the age of 29.  Gemma loved the sun and snow so it was very fitting that it was actually snowing on the day of her funeral.  Wacton (her home village) Church was packed full with her family and friends and the Hartismere School Choir sang beautifully.
Gemma had a large group of friends from her school days at Norwich High.  They & their families, plus former colleagues from Hartismere together with Gemma's family members, all make the annual pilgrimage to Holkham to do the walk and share memories of their much loved Gem.
Gemma's death has had a profound effect on her family and friends.  She loved children and now that her friends are in their thirties, many of them are blessed with a family and it's so difficult not to think that Gemma would maybe also be a mum.  Her sister Katie has two children and I'm sure she would have been a great auntie too!  She will never be forgotten and will stay in our hearts forever.
I gradually became more involved in the charity and am now treasurer/trustee also responsible for updating the charity's Facebook page and website.    Robbie and I raise money each year by holding events including cream teas, an annual Christmas Party, selling produce and doing supermarket collections.  Some of the funds raised are also match funded, thanks to family members.
I am determined to carry on fundraising in order to fund better treatments and ultimately find a cure for this incredibly challenging form of brain cancer and help ease the anguish of living with the fact that these low grade glioma tumours can inevitably cause distressing symptoms and can also transform to a more malignant form at any time, making it an extremely challenging disease to live with.